Posts Tagged 'John F Kennedy'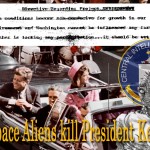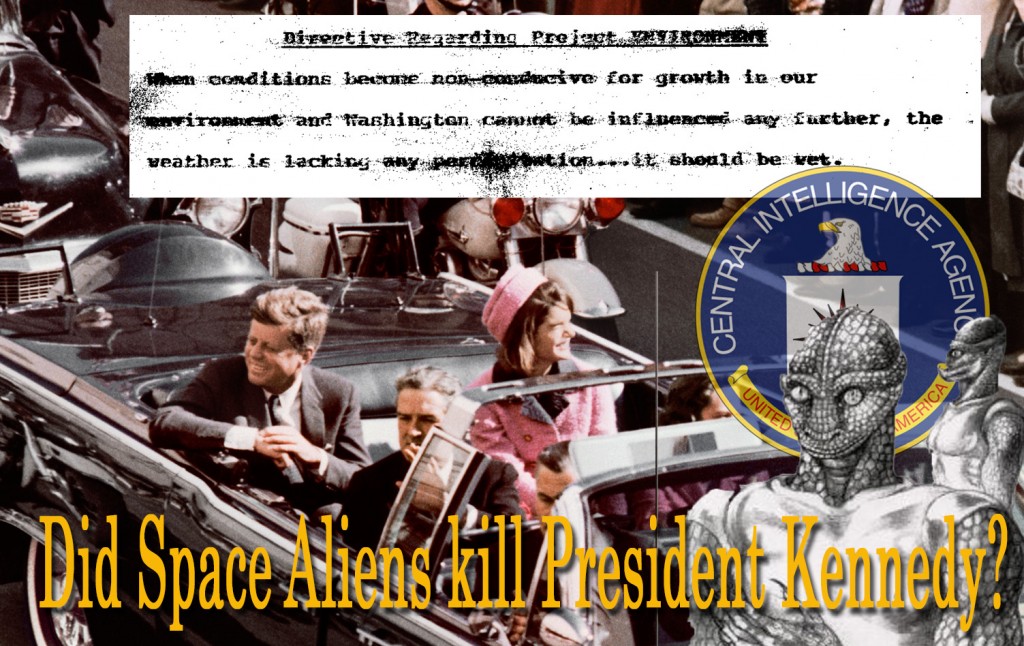 A new book on UFOs and U.S. Presidents has created quite a stir with sensational headlines about an alien connection to the JFK assassination by several mainstream U.S. news media sources. The
New York Post
led the charge on March 22 with the headline: "Aliens killed Kennedy! And other wild tales of UFOs vs. the USA." The Business Standard
followed up today
with the headline: "Aliens planned John F. Kennedy's assassination, claims author." So did space aliens really kill President Kennedy?
The headlines derive from Larry
Holcombe's new book
,
The Presidents and UFOs: A Secret History from FDR to Obama
. In it Holcomb covers the history of how U.S. Presidents have responded to the UFO issue. Holcomb cites a number of FOIA documents and leaked "Majestic" documents in presenting his history. The chapter on President Kennedy is what got mainstream media attention. Here is how the New York Post
summarized Holcombe's views
:
Holcombe cites a classified CIA communication from the Kennedy era that reads, in part, "when conditions become nonconductive for growth in our environment and Washington cannot be influenced any further . . . it should be 'wet.' " Since "wet" was Soviet code for "assassination," Holcombe thinks this could be CIA code for a plot to kill Kennedy. Why? He was considering telling the world that aliens existed, of course.
The classified CIA document is known among UFO researchers as the "Burned Memo", and has generated much interest since first made available by Dr Robert Wood and Ryan Wood on their
Majestic.com website
. The "Burned Memo" does indicate that a mysterious committee called the MJ-12 Special Studies group was setting policy on how to respond to President Kennedy's efforts to get access to classified UFOs. The "Burned Memo" contains eight directives – the last of which was an assassination directive called "Project Environment."
The 2013 book,
Kennedy's Last Stand: Eisenhower, UFOs, MJ-12 & JFK's
Assassination
goes into length about the membership of MJ-12 and the timeline behind the drafting of the Burned Memo.
Kennedy's Last Stand
asserts that the CIA's head of counterintelligence, James Jesus Angleton, orchestrated the JFK assassination on behalf of the directives issued by the MJ-12 Group.
Kennedy's Last Stand
identifies the most likely members of the MJ-12 committee at the time the Burned Memo was drafted. All were prominent military and civilian officials – none of whom appeared to be space aliens. So the New York Post article doesn't appear to be correct in making the case that space aliens were responsible for Kennedy's assassination.
However, before dismissing any alien involvement in the Kennedy assassination, one needs to consider the full implications of what President Obama said on March 12 on Jimmy Kimmel Live. In response to Kimmel's question about how he would seek to gain access to UFO files and Area 51 if he were president,
Obama said
:
The aliens won't let it happen. You'd reveal all their secrets. They exercise strict control over us.
While Obama's comments were widely interpreted as a joke by most mainstream media, it's important to mention that only a month earlier, John Podesta, Obama's counselor for energy policy and the environment said that
his biggest failure
for 2014 was: "Once again not securing the #disclosure of the UFO files."
Podesta's frank admission of failure was interpreted as evidence that there exist powerful government and/or corporate forces enforcing UFO secrecy. Obama's comments on Jimmy Kimmel Live raises another possibility. Space aliens themselves, at least some of them, play a key role in maintaining UFO secrecy.
Podesta's frustration over the inability of the Obama administration to gain access to classified UFO files was almost certainly shared by President Obama. Podesta's statement now makes clear the full context of Obama's space alien comments on Jimmy Kimmel live. His comment that space aliens "exercise strict control over us" was no joke. He was making an important admission about who was ultimately in control when it comes to gaining access to classified UFO files.
If space aliens were responsible for blocking the Obama's administration's access to classified UFO then it stands to reason that they played a similar role during the Kennedy administration. Kennedy's interest in UFO files started during World War 2 when he witnessed captured Nazi technologies, some of which were UFOs, is discussed in
Kennedy's Last Stand
. A new
Kickstarter film project
that goes into more detail on Kennedy's knowledge of Nazi UFOs, reverse engineering captured UFOs and alien life is planned to be released on Nov 22, the 52
nd
anniversary of the JFK assassination.
The
New York Post
and
Business Standard
headlines on aliens and the JFK assassination may appear to be outlandish. Yet when one examines all the available evidence on President Kennedy's knowledge of classified UFOs and Obama's recent comments, it may not be that outlandish after all. Space aliens, at least some of them, may have played a key role in the Kennedy Assassination.
© Michael E. Salla, Ph.D.
Copyright Notice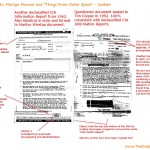 announced the results
of a detailed analysis of more declassified documents from the CIA electronic archives that help confirm the validity of a leaked document allegedly of a CIA wiretap of Marilyn Monroe and her closest friends. Monroe had been under CIA surveillance due to her friendship with the Kennedy brothers and communist sympathizers up to the time of her mysterious death on August 5, 1962, two days after the Wiretap document. The
Wiretap document
is a summary of her recent phone conversations where she planned a "tell all" press conference revealing President Kennedy's secrets and knowledge about a retrieved UFO at a USAF facility. In response to a critical analysis of his
initial article
about his research at the CIA electronic archives, Nicholson analyzed further CIA documents that addressed the criticisms and published the results.
His conclusion i
s that the Wiretap document matches authentic CIA documents so closely "that it could not have been faked without access to CIA archives." Consequently, the leaked wiretap document is either an authentic CIA document leaked to the public, or a document that was created by some with access to the CIA archives who likely had authorization to do so.
In response to
Nicholson's first article
released on April 14, four key points emerged in a critical analysis of his research. These were:
1. All CIA documents from that time frame contained a phrase on the bottom of the page which stated: "Automatically declassified by code xxxx on xx/xx/xxxx." This is noticeably absent on the Marilyn wiretap document. 2. The classification "Top Secret – Not for publication" never appeared on documents. It is a non sequitur. The ranking of a document as "Top Secret" is and of itself the actual highest ranking, higher even than any document containing other code names or phrases along with the Top Secret stamp. 3. The document is also missing a border color. It should have a blue stripe on it. 4. The CIA was not using typewriters in 1963. By that time everything that was typed came from either teletype machines or by early computers and printers.
Nicholson used newly declassified Information Reports from the CIA's electronic archives to answer each of the criticisms. In response to the first criticism, he found that Information Reports contain classification information at the very bottom. In the leaked CIA Wiretap document, Nicholson
points out
:
One thing we can say for sure is that our leaked document has been cropped both top and bottom, it does not contain the words "Information Report", this may have been done accidently or on purpose by the individual that leaked the document.
With regard to the second point, Nicholson found multiple classification stamps on CIA documents. This signified that documents are routinely downgraded and stamped accordingly prior to release. He provided an example of a CIA document with multiple security stamps.
He wrote
:
It is my contention therefore that the Marilyn Wiretap was initially classified Top Secret but was later downgraded prior to leaking, at which time the second "NOT FOR PUBLICATION" stamp was added.
Regarding the third point, of a missing border color, Nicholson points out that it is missing due to the document being cropped prior to being leaking.
Finally, with regard to the document being created using a type writer or teletype machine, Nicholson analyzed the fonts of the leaked document and declassified CIA documents and found them to be virtually identical with each other as he demonstrated in a comparison graphic.
He wrote
:
Nicholson's conclusion from his analysis of a number of declassified CIA Information Reports is that the Monroe wiretap document was an Information Report subjected to a review prior to its dissemination. Whether the Marilyn wiretap document was hand typed or printed is really as moot point, as either way it is 100% consistent with declassified CIA Information Reports …
Nicholson suggested
:
… either a semi-official declassification process occurred, in the case of a sanctioned release. Or an extremely cautious and experienced archivist sanitized the document before it was passed to Tim Cooper in 1992, if the document was smuggled out and leaked without consent.
The implications of Nicholson's research are staggering. Authenticating the allegedly leaked CIA Wiretap document shows not only that Monroe was under official surveillance by the CIA, but that her death was more than likely linked to her planned tell all press conference. Monroe's knowledge that President Kennedy had seen artifacts from a crashed UFO housed at a classified Air Force facility would have shocked the nation then. Today, such knowledge not only helps explains Monroe's mysterious death two days after the Wiretap document date, but also casts light on JFK's assassination just over a year later.
On May 19, 2014 Lee Nicholson from the popular Outpost Forum,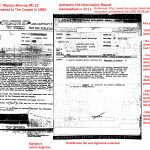 New evidence has just been released supporting the authenticity of a leaked CIA document allegedly of wiretaps of Marilyn Monroe and her friends shortly before her suspicious death on August 4, 1962. The wiretap document revealed that Monroe was planning to give a press conference about what President Kennedy had told her of a visit to an undisclosed Air Force facility where he saw the debris of a crashed UFO. The Monroe wiretap document was first leaked in 1992 to a UFO researcher, and was made public in 1994. It has not been confirmed by the CIA to be genuine, and remains open to dispute. The new evidence that was revealed yesterday shows that the leaked document conforms closely to a standard classified Information Report form used by the CIA in 1963. Either someone broke the law by forging or using a standard CIA Information Report form for classified reports at the time of Monroe's death, or the Monroe wiretap document was indeed a classified report about a wiretap of Monroe and her friends.
This is what the alleged
CIA wiretap document,
dated August 3, 1962, had to say about Monroe's knowledge of Kennedy and UFOs:
Rothberg indicated in so many words, that she [Monroe] had secrets to tell, no doubt arising from her trists [sic] with the President and the Attorney General. One such "secret" mentions the visit by the President at a secret air base for the purpose of inspecting things from outer space. 2. Subject repeatedly called the Attorney General and complained about the way she was being ignored by the President and his brother. 3. Subject threatened to hold a press conference and would tell all.
The discoverer of the CIA intelligence report is Lee Nicholson from the Outpost Forum. In his
April 14 forum post
he described what he found after visiting the CIA's electronic reading room:
During the process of researching this article I spent several hours at the CIA's electronic reading room looking at documents from the 1960s, in an attempt to find examples of similar typeface to that seen in our questioned document …. I discovered a CIA Information Report dated 18th March, 1963 with the subject heading: "Projected Soviet Space Launchings" which was declassified on the 16th of July 2011. This authentic CIA information report is an almost perfect match in style and presentation for the leaked 'Marilyn document'.
Nicholson
went on
to describe new facts emerging from a comparison between the declassified CIA document and the Monroe wiretap document:
In fact a close comparison gleans some important new facts. Firstly, we can now see that both documents use the exact same form letter or template information report. Presumably the author would have a stack of these 'blank' forms which would be placed into a typewriter to add the relevant information before classification and distribution. We can also see that both documents contain the same secondary typeface, which is in fact Courier type commonly used on IBM typewriters in the 1960s.
Nicholson then described a series of parallels between the declassified 1963 Information Report and the leaked Monroe wiretap document. His conclusion was that they closely matched suggesting that the Monroe document is genuine.
The implications of the Monroe wiretap document being genuine are astounding. It reveals that only one day before her death, Monroe was planning a press conference that would reveal what President Kennedy had confidentially told her about UFOs. The fact that the CIA was monitoring her and wiretapping her phone calls, directly implicates the CIA in her suspicious death and the cover-up of information concerning UFOs.
© Copyright 2014. Michael E. Salla, Ph.D.
Further Reading
Kennedy linked US-USSR space missions with classified UFO files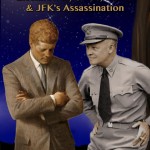 Just before the start of his first term on January 20, 1993, President-Elect Clinton made a strange request to close family friend and lawyer Webster Hubbell: "If I put you over there in justice I want you to find the answer to two questions for me: One, who killed JFK. And two, are there UFOs." According to Hubbell, "Clinton was dead serious." The key to unlocking the mystery of President Kennedy's assassination and a possible UFO connection lie in events that occurred 18 years earlier in post-war Germany.
In the summer of 1945, John F. Kennedy was a guest of Navy Secretary James Forrestal in a post-war tour of Germany. Kennedy personally witnessed technological secrets that have still not been disclosed to the general public. These secrets stemmed from technologies that Nazi Germany had acquired from around the world, and were attempting to develop for their weapons programs. The advanced technologies stunned the military government running the U.S. zone of occupied Germany. How did the Nazis develop them? The answer according to the father of German rocket design, Herman Oberth, shocked U.S. military officials. The Nazis had help from "the people of others worlds" – some of the technologies were extraterrestrial in origin.
In searching for answers to who killed President Kennedy we need to start with the death of his mentor, James Forrestal in 1949. Forrestal became the first Secretary of Defense in 1947, a position he held until March, 1949. Forrestal was a visionary who thought Americans had a right to know about the existence of extraterrestrial life and technologies. Forrestal was sacked by President Truman because he was revealing the truth to various officials, including Kennedy who was a Congressman at the time. Forrestal's ideals and vision inspired Kennedy, and laid the seed for what would happen 12 years later.
After winning the 1960 Presidential election, Kennedy learned a shocking truth from President Eisenhower. The control group set up to run highly classified extraterrestrial technologies, Majestic-12, had become a rogue government agency. Eisenhower warned Kennedy that Majestic-12 had to be reined in. It posed a direct threat to American liberties and democratic processes. Kennedy followed Eisenhower's advice, and set out to realize James Forrestal's vision. The same forces that orchestrated Forrestal's death, opposed Kennedy's efforts at every turn. When Kennedy was on the verge of succeeding, by forcing the CIA to share classified UFO information with other government agencies on November 12, 1963, he was assassinated ten days later.
Kennedy's Last Stand
is a book about how two American Presidents, Eisenhower and Kennedy, confronted "black world" operations outside of the control of "white world" constitutional government representatives.
Kennedy's Last Stand
reveals how JFK tried to realize his friend's and mentor's vision of a world where humanity openly knows about extraterrestrial life. The book reveals for the first time, the principal government officials responsible for denying that vision, and orchestrating the assassination of President Kennedy.
Kennedy's Last Stand: Eisenhower, UFOs, MJ-12 and JFK's Assassination by Michael E. Salla, Ph.D., becomes available at Amazon on October 22, 2013 – one month before the 50th anniversary of the JFK Assassination.